The German Adhesives Association safeguards the technical, political and economic interests of about 150 German Adhesives-, Raw Materials- and Tape Manufacturers, as well as of important System Partners and Scientific Institutes.
The German Adhesives Association is the world largest – and with respect to its broad service portfolio at the same time the world leading national organisation in the field of adhesives bonding technology.
The German Adhesives-, Sealant- and Tape Industry which is mainly small- and medium-sized structured, represents an annual turnover of > 4.0 bn. €. The increasing use of adhesives bonding technology in almost every industry generates an added value which is believed to be more than 400 bn. €.
The German Adhesives Industry employs in total more than 13.000 people.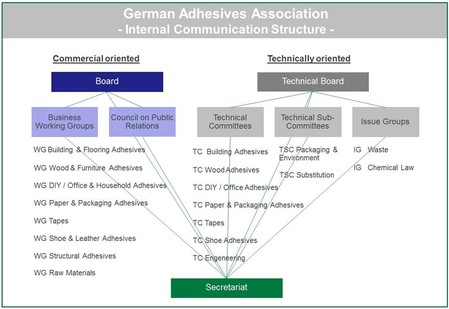 Facts
Year of Foundation: 1946 / current from 1893
Headquarter: Düsseldorf
Membership: > 135
Organisational Competence: > 95%
Structure of Industry: primary small- and medium-sized
Industry Turnover: > 4.0 bn. €
Board of Directors and Management
Dr. Boris Tasche is Chairman of the BoD of Industrieverband Klebstoffe e.V. He is Corporate Vice President in the adhesive division of Henkel, responsible for Business Development.
Ansgar van Halteren is Executive Board Member of Industrieverband Klebstoffe. He started his career in 1983; since 1992 he is responsible for the German Adhesive Association.